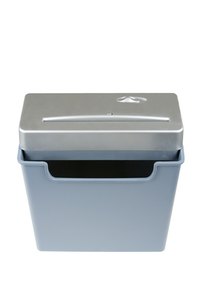 People use paper shredders at home or business offices to destroy confidential documents, protect personal information and prevent identify theft. According to CBS News' "Early Show" consumer correspondent Susan Koeppen, Americans spent $400 million dollars on paper shredders in 2005 alone. Unfortunately, people operate paper shredders every day without pausing to consider the possible dangers of this common office appliance.
Child Injuries
Technological advances in computers and the Internet allow many people to work from home instead of traveling to an office. As a result, paper shredders have found a place in many home offices, introducing a new hazard into an environment where children may be present. Paper shredders pose the risk of painful and sometimes irreversible injuries to children who operate the machine with or without adult supervision. A 2006 article on "CBS News" points out how easily a child's small fingers can get sucked into the teeth of a paper shredder, leading to finger lacerations and even amputations.
Pet Injuries
People without children who keep paper shredders at home may not think twice about the risk of injuries. Unfortunately, pets often get overlooked in paper shredder safety. Paper shredders left plugged in on the floor create a huge risk to pets. A dog might lick the shredder and get his tongue stuck in the blades, resulting in an emergency trip to the veterinary office and medical expenses. Also, a cat could get her long fur or tail caught in a paper shredder. Failure to protect pets from paper shredders might result in the death of a beloved animal that could have been prevented.
Finger Amputations
Anyone who operates a paper shredder at the office or at home without carefully reading the user manual exposes himself to possible injuries. For example, people might accidentally place fingers too close to the blades of a paper shredder when attempting to clear a paper jam or remove dangling hair or jewelry from the shredder. This increases the possibility of finger injuries and lacerations so severe that the finger needs to be amputated. A paper shredder's pulling force and the width of the opening are important safety factors to consider, reports Roberts and Roberts Law Firm.
Fire Hazard
Like all electrical machines, paper shredders can pose a fire hazard for both the home and work environment. Paper jams that occur while operating a paper shredder can lead to overheating of the machine. People who leave paper shredders plugged into an outlet while not in use are also at risk of a fire. In fact, a 2010 article in "KVOA Tucson and Southern Arizona News" reports $45,000 of damage to a mobile home caused by an electric short in a paper shredder the owners left plugged in while away. Prevent fires by unplugging paper shredders and storing them in a safe place.