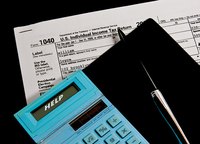 If you need to report and deduct business expenses from your income taxes, file IRS Form 2106 or 2106-EZ. Use Form 2106 if your employer reimbursed you for some of your business expenses and Form 2106-EZ if your employer did not. Make sure you have records for every expense you claim. Reporting your business expenses incorrectly can cost you time and money.
Your Expenses
Both forms ask for your business expenses for the tax year. If you drove for work, include your mileage, calculated using the IRS's standard mileage rate. As of 2012, the standard mileage rate was 55.5 cents per mile. You may also include parking fees, tolls, other transportation costs, travel expenses, meals, entertainment and other business expenses.
Employer Reimbursements
Form 2106 asks for the amount of reimbursements received from your employer that were not reported on your W-2.
Vehicle Information
Both forms ask for your vehicle information. The 2106-EZ requires the date you began using your vehicle for work; miles driven for business, commute and other purposes; whether your vehicle was used for personal reasons and whether you have documentation supporting your numbers. Form 2106 also asks for your average round-trip commuting distance and actual vehicle expenses such as fuel, repairs, insurance, rentals, value and depreciation.