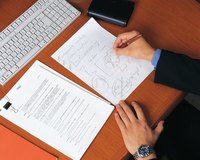 A company's success is not measured by any single factor. Several factors go into determining the success of a company. When you combine things such as profitability, customer loyalty, longevity, employee morale and other tangible factors, you begin to get a clearer picture of how successful a company is. There are a few more focused elements that can also be considered among a company's success factors when analyzing the impact a company has on its employees, owners and customers.
Employee Turnover
A company that is able to retain its workforce benefits in several ways. As the workforce gains experience in the industry and learns how to apply that experience specifically to the company, it encourages the generation of ideas that make the company more competitive. Training new employees is costly; a company that can retain its current employees does not have to spend money bringing in new talent.
Decision Making
The success of a company is directly tied to how the company makes decisions on everything from new product development to ongoing name-brand marketing. An effective executive surrounds himself with talented people who can advise on the decision-making process and help to craft a decision based on the staff's combined experience. A company run by an executive who does not bring other people's experience to the decision-making process could be limiting its options and preventing itself from being as competitive as possible.
Overhead Costs
A successful company is one that can keep its operating costs low while maintaining a high standard of products and services. Low overhead costs help to add money to the bottom line, and a low overhead ratio also looks good to stockholders and prospective investors. A company is measured on how well it manages costs and how much it can improve its bottom line by monitoring the way business is done.
Customer Satisfaction
Satisfied customers can be the best source of new business for any company. A satisfied customer will tell friends about your company; in turn, those friends may begin to buy your product. When your company hits a difficult time due to a management scandal or a problem with product quality, your satisfied customers are the ones that will stay with you and be there when the problem is solved. A high satisfaction rating among customers is key to a successful business.