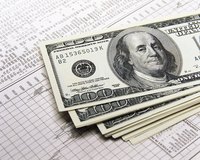 Financial planning, also called financial forecasting or budgeting, is a strategy that allows individuals and corporations to plan for future expenses and revenues. It allows them to effectively allocate resources in order to meet their financial goals. Financial planning determines how a business will achieve its strategic (long-term) objectives and goals based on its current and forecasted future financial position. Despite its usefulness, financial planning has some problems, each of which has to be appropriately addressed to generate a viable and workable financial plan.
Future Uncertainty
All financial planning decisions involve the future—which is uncertain. Financial markets are chaotic and non-stationary. It is difficult, if not impossible, to plan accurately for the future based on past trends and market behaviors. According to M. Kasi Reddy and S. Saraswathi in the book "Managerial Economics And Financial Accounting," it is difficult to predict future demands, environmental changes, expected returns and competition—all of which are involved in making viable financial plans. According to Frederic Mishkin and Stanley Eakins in the book "Financial Markets and Institutions," even the best financial planning techniques and models are difficult to apply due to the uncertainties associated with accurately estimating future risk and growth.
Cost
Financial planning is an expensive exercise and its costs vary, depending on the type of individuals who are hired and the extent of financial planning services offered. According to Jerry S. Rosenbloom in the 2005 "Handbook of Employee Benefits," it is not uncommon for individual-offered financial planning services to cost between $3,000 and $10,000 per project. According to Cost Helper, as of September 2010, certified financial planners charge between $80 and $400 per hour, depending on the geographical location and the complexity of the plan.
No Regulatory Body
Individuals and companies often enlist the help of professional financial planners due to the complexities involved in making viable financial plans. A professional, specialized financial planner combines years of experience, a solid degree, ongoing education and good ethics. Unfortunately, not all financial planners are appropriately trained to offer financial advice. Furthermore, virtually anyone can claim to be a financial planner: a retired banker, a college student and even a homemaker looking to cash in on some easy money. There is no government agency or educational requirements that regulate financial planners, and many individuals use the title of "financial planner" indiscriminately. Financial product agents, such as unit trust and life insurance agents, use the title of financial planner to come across as professional. They provide incompetent and unprofessional financial planning services that cause considerable financial losses. Businesses and individuals looking to hire professional planners must verify their designations and/or qualifications with their appropriate certifying bodies.