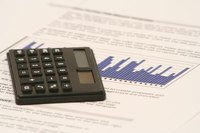 Publicly traded companies have a large roster of reporting and regulatory obligations to fulfill. Corporations must report to their shareholders, and also to financial regulatory authorities that collect data for the public record. Each publicly traded company must file an annual report, and also a report known as a 10-K. Although these have similarities, they also have key differences.
Purpose
An annual report is used to represent the state of the company to shareholders, and give them an insight into the company's activities in the past year. It's unofficial, and its purpose is mainly to communicate, so it serves something of a public relations function. A Form 10-K report is an official document that publicly traded companies must file with the Securities and Exchange Commission. In contrast to the annual report, it is filed to fulfill a regulatory requirement for transparency. It cannot contain any of the management "spin" which is often a feature of the annual report.
Contents
The annual report is an informal document, so the content will vary from company to company depending on what is most important to communicate to shareholders. Typically though, each annual report will include at least a balance sheet and a list of company officers. Extra information is at the discretion of the company. Some will give a very full financial picture; others will give only key pieces of information. A Form 10-K by contrast always contains a comprehensive financial picture of the company, portrayed in set types of information mandated by regulators. These include executive compensation, legal proceedings, property holdings, subsidiaries, a business summary and many other requirements.
Access
These documents are produced by publicly traded companies and are therefore in the public domain and may be accessed by anyone who is interested, whether they are a shareholder or not. But the two documents can be accessed differently. An annual report can generally be found on the company's website, or it can be ordered online from the website. A Form 10-K report is filed with the SEC, and can be looked up on the SEC's EDGAR database. Many companies will also make their 10-K filings available on their websites, but this is not a requirement.