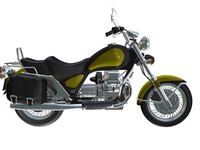 You are interested in buying a motorcycle but you have questions about the insurance. As a general rule, the states hold motorcycles to the same insurance standard as personal automobiles, so, chances are, you will have to purchase motorcycle insurance if you want to ride it in your state. There are some exceptions, however, and some confusing laws to be aware of when making your decisions.
Exemptions
Motorcycle insurance is required in every state except Washington and Montana. Montana exempts motorcycle owners from the auto insurance statutes, and Washington has no laws regarding insurance for motorcycles, mopeds or other motor-driven cycles.
Restrictions
Some states require basic liability insurance for motorcycles but differ in other ways from standard auto insurance. In Alaska, for example, insurance companies are not required by law to offer motorcyclists more than the minimum required liability limit. Oregon, Utah and Texas require cars to carry personal injury protection (PIP) coverage for first-party medical claims, but do not offer this coverage to motorcycles. In Kansas, motorcycle drivers can reject the PIP coverage required for autos.
Florida
In Florida, motorcycle insurance is optional in some circumstances. If you have a clean driving history, you do not need insurance to register your bike. However, if you cause an accident, you must carry insurance for three consecutive years to maintain your bike's registration. You are also responsible for any injuries you cause, regardless of whether you have insurance. Another law states that if you do not carry a minimum $10,000 injury protection insurance for your motorcycle, you must wear a helmet.