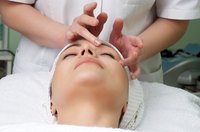 Dermatologists perform several different types of laser facial procedures for aesthetic purposes. Laser treatments can reduce redness and blushing from rosacea, remove unwanted facial hair and resurface the skin on the face to minimize the appearance of wrinkles and fine lines.
Laser Hair Removal
Lasers are used to vaporize the hair from the follicle. Because hair grows in stages, these treatments are done over a period of four to seven months and scheduled about a month apart. This way, up to 80 percent of the unwanted facial hairs are affected by the treatment so that the appearance of the hair is significantly reduced.
Laser Resurfacing
Resurfacing can promote the growth of healthier skin and reduce the appearance of scars and wrinkles. These treatments are effective for minor changes to the overall appearance of the face. Laser resurfacing is also used to fade chicken pox scars, sun damage and liver spots. The laser removes the top layer of skin and warms the skin below to stimulate the growth of new skin. Patients must avoid direct sunlight for a few days after treatment to allow the treated areas to heal.
Laser Complexion Treatments
Lasers are also utilized to reduce the visible symptoms of rosacea. Patients with rosacea experience unrelenting redness in the face, severe flushing and visible blood vessels. The treatment can cause bruising in the treated area that takes up to two weeks to heal. The treatments cannot cure rosacea but can improve the quality of life in patients with rosacea.