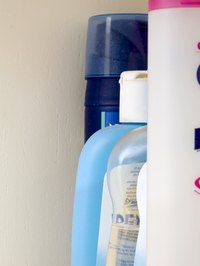 Shampoo often contains a long list of ingredients that sounds confusing. Though components can vary between different types and brands of shampoo, they generally share the same main ingredients. Some shampoos will add different elements to create hair with body or to make hair shiny and more manageable, while others will remove them to keep hair from becoming greasy or oily.
Water
Water is the main ingredient in most shampoos. Shampoo can contain up to 70 percent of specially treated water. This "deionized" water has been altered to remove particles and ions. The water mixes all the other ingredients.
Detergents
Detergents are the ingredients in shampoo that make your hair clean. Often derived from oils such as coconut or soy bean, detergents trap the oil and dirt in your hair so you can wash it away. Some common detergents are ammonium lauryl sulfate and sodium lauryl sulfate.
Lather-Enhancing Agents
Lather enhancing Ingredients enhance the foam created when using the shampoo. They are similar in origin and properties to the detergents. Some examples are lauramide or cocamide DEA.
Conditioners
Because of their harshness, some ingredients in shampoo can strip the hair and dry it. As a result, manufacturers add conditioning agents, which leave a deposit on the hair to make it feel softer. Ingredients such as guar hydroxypropyltrimonium chloride and quatemium 80 are conditioning agents.