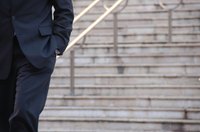 Risk factors involving several aspects of your business are taken into account when determining your insurability or insurance rates. The more perceived risks your business has, the more insurance coverage you will need. Although companies with higher risks may pay higher insurance premium rates, the extra money spent is worth the coverage offered against potential losses, medical expenses and lawsuits.
Location of the Business
You business address may have some associated risk attached to it. For example, a business in a large metropolitan city that has a high crime rate may be more vulnerable to break-ins than one located in the downtown area of a rural community. Additionally, the state and area your business is located in may have a perceived risk of being more vulnerable to natural disasters like floods.
Type of Business
Some business operations are riskier than others. If you are an accountant who runs a business out of a small office, risk factors will be substantially lower than if you had a business that employs hundreds of workers to take care of wild animals in captivity.
Special Structures
Structures on your property may pose a high risk of injury. For example, a playground at a fast food restaurant can make a business uninsurable by some insurance companies because of the higher risk of injury. Pools, fountains and stairs are also items taken into consideration when determining insurance risks.
Number of Employees
The more employees you have, the greater the chances are that you will have a workers' compensation claim. Moreover, the more employees present, the greater the chance that you will have a claim against your employment practices or discover that you have a dishonest employee.
Credit Rating
Your ability to make bill payments on time, pay back a major loan and be in good standing with credit card companies can make a difference in whether you are personally considered a risk or not. The Federal Trade Commission states that your credit score is taken into account when calculating risk and insurability.
Property Damage Risk
The types of heavy machinery used around a building, combustible chemicals used inside and the safety procedures implemented are all considered insurance risk factors. Any part of your business operations that can damage your property is a risk.
Past Losses
Insurance companies may consider the number of claims you have filed in the past and their frequency to be a risk. While some operations have expected risks, such as rescue diving operations, a high frequency of claims may indicate that proper safety protocols are not in place.