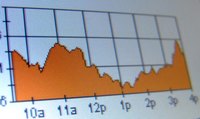 Most subcultures develop their own colloquial language, and the investors of Wall Street are no exception. From bear markets to deep dives, the language of investors and players in the stock market can be inscrutable to outsiders. In addition to serving as a linguistic marker defining who is in the know, investor slang condenses some very convoluted concepts into easily understood verbal shorthand, thus speeding up and simplifying the process of trading for those who speak the language.
Bottom Fishing
This term refers to the act of buying up stocks that have lost much of their value after a market slowdown or crash. When some investors begin selling, others get cold feet and sell as well, causing a run that may cause certain stocks to be temporarily undervalued. Buying these stocks at their low point can lead to substantial and rapid profit.
Misery Index
The Misery Index is comprised of the sum total of the unemployment rate and the inflation rate, both of which can have major effects on the performance of the stock market. Jimmy Carter popularized this phrase while running for president in 1976, a time when unemployment and inflation were both high.
Big Figure
The term "Big Figure" is used in Forex (foreign exchange) trading to indicate the numbers to the left of the decimal point in an exchange rate. For example, if the exchange rate between U.S. and Canadian dollars is 1.00/1.09, the "big figure" is the 1. Forex traders sometimes omit the big figure as a form of shorthand, since it rarely changes over the short term, so the previous example would be written as 00/09.
Profit Feeder
A profit feeder is a regular communication that traders and investors subscribe to that keeps them apprised of likely stock movements in the near future. Most profit feeders are now circulated in the form of daily emails.
Scalping
The practice of scalping involves buying stocks or other investments as their value is increasing and then selling them very quickly to realize a quick profit. By doing this frequently for small increases, a trader can realize a substantial sum. The practice is destabilizing to the market and is frowned upon by many traders.