Signing a lease and paying move-in costs for a new apartment are just the beginning of the moving process. Whether you're moving out on your own for the first time, relocating or simply downsizing from a house to an apartment, you must complete a few key tasks to make the move a success. Moving requires planning and organization. Documenting and preparing the unit for move-in can help prevent future disagreements with your landlord and roommates, and can make for a smoother move-out in the future.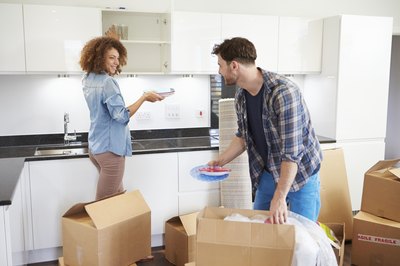 Think Inside the Box Before Moving
Packing tools help ensure your possessions make it to the apartment safely and efficiently. Whether you start packing days or weeks before your move, pick up these essential items, first:
Packing paper and bubble wrap
Packing labels and markers in a variety of colors
Packing tape
Boxes in a variety of sizes
Clipboard
Moving Checklist
You can buy these items at a truck rental service or a home improvement store. You can also collect used shipping boxes discarded by local businesses or borrow moving materials to save money. Get ideas for creating your own moving checklist from resources such as Moving.com and My First Apartment, or download a template from moving-company websites such as U-Pack and U-Haul.
Make the Right Moves Before Move-In
Document the condition of the apartment before move-in to help protect your security deposit. It's easier to detect a unit's defects when it's empty. Look for damage to appliances, walls, flooring and other major components by running faucets, operating systems and testing power outlets. Also looks for signs of mold, mildew, dirt and wear-and-tear. Write down and take photos or video of your findings. By law, some landlords must supply an inspection checklist and list of damages to new tenants upon move-in. However, if your landlord doesn't, create your own inspection checklist or download one from a legal resource website such as Nolo or Landlord.com.
Aim to do the inspection in the presence of landlord present or at least a roommate or friend. Be specific when writing describing defects and have the landlord sign your inspection checklist. Provide a copy and keep one for yourself.
Set Up House at the Apartment
Set up services with providers so they are in effect by your move-in date. Utilities and services apartment residents are usually responsible for setting up, include:
Power -- electricity and possibly gas
Cable, telephone and internet
Renter's insurance
Change of address
Check your rental agreement to determine other services you may be responsible for, such as water, sewer, trash and recycling pick-up. Even if such services are included in your rent, your landlord might not set them up for you.
Moving in With Roommates
If you share the new apartment with one or more roommates, divide the costs and share responsibilities. All roommates should participate in the move-in inspection and keep a copy of the results. Calculate costs of supplies and moving expenses in advance and have everyone pay their part upfront. Each roommates' portion of the rent, services and utilities, parking, storage and apartment space allotment, and furnishings should be documented in writing before move-in. Should any part of the arrangement change after moving in, document the changes and have everyone sign in acknowledgement.