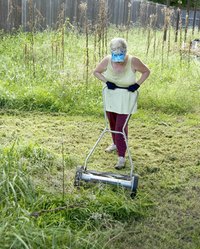 Unlike self-propelled and riding lawn mowers, push mowers rely only on manual strength for covering stretches of landscape. While using a push mower may seem a bit challenging, especially when it comes to mowing larger lawns, the money you save may make the physical exertion worth it. Of the two general types of push mowers--reel mowers, which have no motorized parts, and motorized--the former are usually less expensive.
American Lawn Mower 1705-16
One of the least expensive, but still high-quality, push mowers on the market is the American Lawn Mower 1705-16, which, as of 2010, typically costs between $100 and $125. This reel mower includes foam-gripped handles, a 16-inch cutting width, 10-inch composite wheels and a knob for adjusting the blades to three different height settings. As Lawn-Mower-Guide notes, one of the 1705-16's most notable design features is its tempered steel alloy construction, which manufacturers use both for the mower's seven blades and its body. This makes the mower incredibly sturdy and lightweight, at just 27 pounds.
Scotts 2000-20
According to Galt Tech, the Scotts 2000-20 reel lawn mower is one of the top-selling push mowers on the market. It features rugged, 10-inch rubber tires; five tempered steel blades; and a large, 20-inch cutting width. However, you can also purchase Scotts 2000 reel mowers in 16- and 18-inch cutting width models. The option to select one of the mower's nine different blade height settings is one of its standout elements, one that allows you to trim your lawn from a range of one to three inches. As of 2010, the Scotts 2000-20 typically costs between $130 and $170.
Fiskars Momentum 317736
At the higher end of the push reel mower spectrum is the Fiskars Momentum 317736, which, as of 2010, typically costs between $200 and $250. The Momentum includes five precision-ground, tempered steel blades; seven adjustable blade height settings; an ergonomically designed handle and, as People Powered Machines states, a contact-free design, which means the blades never scrape or otherwise come in contact with the solid ground. This allows the blades to go for years—up to 10—without requiring resharpening. Also, instead of relying on ball bearings for spinning their blades as the above mowers do, the Momentum utilizes a chain system, similar to a gas-powered mower.
Craftsman 38911
If you plan on spending in the $200-range for your cheap but high-performance push mower, you may want to consider purchasing an inexpensive mower of the motorized variety. One of the best is the Craftsman 38911, which, as of 2010, costs around $240. According to View Points, the mower features a 21-inch cutting width, a six-setting adjustable deck for raising and lowering blade height and a 6.75 torque Briggs & Stratton Platinum Series engine.