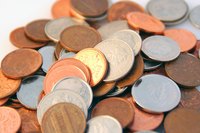 Fundraising can be a sensitive topic, as donors are asked to put both their money and their trust into an individual or organization. The state in which the fundraiser will be held wants to make sure the donated dollar ends up exactly where the donor intended it to. To protect the donor, certain laws apply to fundraising activities. These laws may differ depending on whether they are conducted face to face, over the phone or over the internet.
Profits
The most basic rule of all fundraisers is that the total amount of money raised must go to the cause for which it was intended. If the organizer announces a fundraiser for breast cancer research, he must make sure 100% of the donated dollar goes toward breast cancer research. He may not extract funding for the money he spent on throwing the fundraiser or for any type of personal payment. Furthermore, Guidestar notes that donors "cannot receive goods and services in return for their gifts, nor can they obtain dividends on their investment."
Registration
Charities and the fundraisers they hold are usually required to be registered with the state. This law protects donors from fraudulent fundraising. Registration includes a description of fundraising activities, a report on financial documents, and a small fee that covers the cost of monitoring the charity. The same form and process is used in 35 American states.
Marketing
Fundraising may be conducted in person, over the phone and over the internet. Currently there are no specific laws about fundraising over the internet. For telemarketing, all calls must be made between the hours of 8 a.m. and 9 p.m. The name and purpose of the organization must be disclosed immediately to the receiver of the call. The entire truth about the organization must be presented. Finally, telemarketers must honor all "do not call" requests. If not, they may be subject to a fine of $11,000, as written on Guidestar.
Insurance
Fundraising events held in venues not owned by the charity will require the charity issue a rider to their insurance policy naming the owner of the venue as a beneficiary. This protects the property owner from liability in the event someone is injured at the fundraiser. These certificates are easily obtained from the insurance company for a fee.