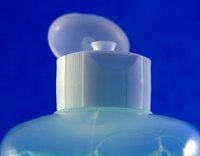 Selenium sulfide, a common ingredient in many treatments for dandruff, can be found in several brands of shampoo. This topical treatment, according to the Mayo Clinic, is typically used in small 1 percent or 2.5 percent doses in such products. Shampoos with a 1 percent strength are sold over the counter, while larger 2.5 percent doses require a physician's prescription.
Selsun Blue
Selsun Blue's Medicated Formula shampoo contains selenium sulfide. This ingredient, the Selsen website claims, will fight dandruff. The addition of enriching menthol to the formula adds a cooling sensation to soothe the scalp. Moisturizing and Normal to Oily formulas are also available of this brand's dandruff shampoo.
Doctors recommend Selsun Blue to control dandruff, seborrheic dermatitis, flaking and itching of the scalp, as well as prevent the recurrence of these conditions, according to its website.
Head & Shoulders
Head & Shoulders Intensive Treatment shampoo also contains 1 percent selenium sulfide as its active ingredient. This medicated shampoo is used as a topical treatment to relieve and prevent dandruff, according to Medications.com.
Head & Shoulders' website guarantees 100 percent flake-free hair with proper use of this product. It also claims to improve the look and feel of your hair.
Dandrex
Another anti-dandruff shampoo, Dandrex uses 1 percent selenium sulfide as an active ingredient to soothe scalp irritation. This shampoo, according to the Druide website, is certified organic to let your scalp breathe and nourish itself. Aside from treating dandruff, Dandrex also promises to restore the pH balance of the scalp and clean deeply.
Dandrex shampoo is appropriate for either oily or dry dandruff-prone hair. It also contains Canadian goldenrod, nettle, mineral sulfur, tea tree oil, lavender, lemongrass and cypress in its unique formula. It is available for purchase from online pharmacy retailers such as Druide and Drugstore.com.