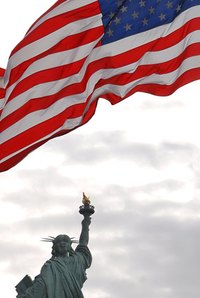 When you live and work in the United States, you must have a permanent resident status card. Better known as the "green card," this permit also allows you to save money in an IRA. If your green card expires or is revoked, you need to leave the country, but what do you do with the money you've accumulated in your IRA?
Form W-8BEN
When you leave the United States and withdraw money from your IRA in the U.S., you need to fill out Internal Revenue Service Form W-8BEN and send it to the company that is paying you in America. This form must contain the U.S. Taxpayer Identification Number you used while you were living in the United States. After filing the form, you will be exempt from U.S. taxes under the IRS rules for tax treaties with foreign governments.
Form 1040NR
Form 1040NR is a non-resident tax form that you file to request a refund of any taxes withheld from you while taking a distribution from your IRA. The IRA funds will not normally be taxable as income under U.S. tax laws if you are not a citizen of the United States and are not living in the U.S.
1099-R
The company that holds your IRA may be required to submit form 1099-R to show a distribution from an IRA. This will be reported to the IRS. If you are not claiming an exemption on your 1040NR and W-8BEN, the IRS will try to collect taxes on your IRA distributions.