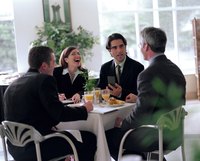 Preparing for a corporate breakfast is sometimes a challenge. You want to make sure your guests are leave full and happy. And you want them to have choices. Providing an energizing meal is also important since the guests be invigorated for the meetings or conference to follow.
Breads and Bagels
Complex carbohydrates are good for the business crowd as you're providing them filling food while giving them energy for the day ahead. Whole wheat toast and bagels typically less expensive than cooked foods such as pancakes or waffles. Adding peanut butter or jelly adds choices and flavor to breakfast.
Fruits
Fruits provide natural sugars without weighing down guests with heavy calories, like foods such as French toast. In addition, bananas and cantaloupe can give guests a quick burst of energy for morning meetings. Berries can be served with whole grain cereal and milk. Bananas can top oatmeal with brown sugar. Or, mix applesauce with oatmeal to provide a smooth consistency and fruity taste. Fruit salad can be mixed with cottage cheese. And apples can be sliced and placed atop an English muffin with peanut butter. These provide less calories than sugary cereals.
Omelet Bar
Omelets are a filling food that can be served by a chef at the serving area. The guests can choose from a variety of fillings such as ham, peppers, and different cheeses. Or, get creative with a pancake and waffle bar, another filling food. Again, let guests choose toppings, such as fruit, syrup and powdered sugar.