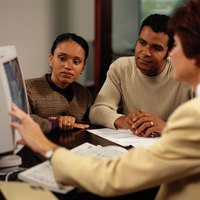 Due diligence is an investigative process companies use to inspect a client's operational or financial information. This process helps organizations make decisions about the company and assess its strength in the business environment. A customer due diligence checklist often relates to banks, lenders or investors reviewing a company as an investment option. These groups focus intently on the due-diligence process to ensure they do not lose money on their investment.
Operational History
A company's operational history is how they conduct themselves with other companies or consumers in the business environment. Due diligence assesses the company's management, access to available economic resources and products sold in the economic market. The operational history of a company can help banks, lenders or investors forecast how well the company will remain relevant in the business environment.
Financial History
The financial history of a company relates to the financial statements or cash flows a company earns through operations. This information is important because companies must be able to generate funds to repay their loans or investments. Banks, lenders and investors will look for financial trends to determine if the company is increasing or decreasing their economic wealth. Poorly capitalized companies represent higher risks if the overall economy weakens and they cannot save capital for running operations.
Business Relationships
Business relationships are an important due-diligence process because how the company treats it vendors, suppliers or partners will more than likely be how they treat their lender or investor. Individuals conducting the due diligence process may interview these other organizations to determine how well the company interacts with them and maintains the relationship. This can also confirm fears about a company's negative reputation. Lenders and investors may be less willing to engage in relationships with difficult companies if they perceive strong opposition to future request of financial or operational audits by the company's management team.