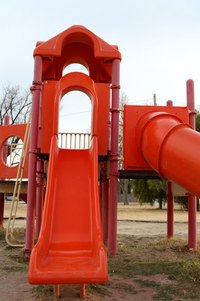 Running a day care center can be a fulfilling and exciting way to make a living. Kids are always surprising adults with their cleverness, intelligence and, of course, cute personalities. However, if you plan on opening a facility that can accommodate a large number of children, there are many expenses involved that you might not have considered.
Facility
Unless you plan on running the day care center from your own home, you will need to buy or rent a building to house your business. You will have to make monthly rent or mortgage payments on this building, plus take care of the grounds, which may mean hiring a landscaping company as well.
Facility Expenses
In order to keep the building up and running, you will need to pay for electricity, water, phone lines, internet, gas, a cleaning service, maintenance fees and repairs, and possibly parking fees, depending on where you live.
Supplies
The list of supplies is almost endless and greatly depends on what you deem necessary for your center, but some important supplies are desks, tables, chairs, bulletin boards, blackboards, rugs, toys, blocks, games, art supplies and food.
Salaries
One of the biggest expenses involved with running a day care center is paying the teachers and staff who will run the school with you. Day care centers usually have a high teacher-to-student ratio, which hikes up the cost, and most classes will need at least one aide or assistant. There are also the secretary, janitor and specialty teachers--such as music and gym teachers--who will need to be paid.
Taxes
The exact taxes might vary from state to state, but you will need to pay business income tax, property tax and taxes on any school vehicles, such as a bus if you provide transportation.
Transportation
If your children are very young, you may not need this category at all because most states have age requirements that determine when a child is allowed to ride a school bus unaccompanied by an adult. If your day care does have children old enough to ride on a school bus, you'll need to take the cost of the bus and the driver into consideration as well.
Field Trips and Special Events
Any time a holiday is coming up or you wish to plan a trip, it will involve extra costs. Going on a field trip means hiring a bus, driver, chaperones (or asking for parent volunteers) and paying for the activity itself for all of the children, as well as any food that you buy on the outing. A special event in school, such as a holiday party or play, might involve hefty food and supply costs.
Therapists
This category will depend on the student body. Some children need speech therapists or early prevention specialists to work with them. If you have students that require this service and you decide to provide it for them, you will have to pay the therapists' fees.
Insurance
When you are dealing with charges as precious as someone else's little children, it is often necessary to make sure that you are insured. Insurance will prove helpful in unfortunate cases of teacher abuse or molestation, or more common cases of children hurting themselves on the playground. Depending on the plan that you get, it can also cover field trips and other off-site accidents. Insurance prices will vary from state-to-state and depend on the size of your school and the type of coverage you choose.