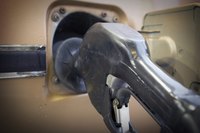 Even if you drive a fuel-efficient vehicle, you may not be getting the best gas mileage possible. There are several reasons for bad gas mileage and several ways to improve your mileage. With high gas prices, it's a good idea to get the most mileage out of your vehicle.
Bad Driving
Bad or inefficient driving can lower your gas mileage. The U.S. Department of Energy says that most vehicles don't operate efficiently while going over 60 miles per hour. Observe the speed limit and drive at a moderate speed for safety and to improve your gas mileage. Drive slowly and cautiously, not aggressively. If you speed up to pass other vehicles and constantly brake or accelerate, you're lowering your gas mileage tremendously.
Tires
Low tire pressure lowers your gas mileage. There is no magic number for tire pressure. Every tire and every vehicle is different, so consult your owner's manual or check the actual tires for the appropriate tire pressure. Tires can also ruin your gas mileage if they are old and balding, since the engine must work harder to gain traction and move. Replace your tires as soon as they begin to bald or lose their tread.
Wrong Oil
Different vehicles require different oil viscosity. While most vehicles will function with nearly any kind of motor oil, using the manufacturer-recommended oil type will increase your mileage.
Clogged Air Filter
For vehicles with carburetors, a clogged air filter can greatly reduce your gas mileage. Contrary to popular belief, vehicles without carburetors don't get bad mileage from clogged air filters, but they do get worse acceleration.
Excess Weight
Extra weight in or on your vehicle can ruin your gas mileage. The Federal Trade Commission estimates that for every 100 pounds in your vehicle, you reduce your gas mileage by 2 percent. Keep only essential items in your vehicle and remove unnecessary tools, equipment or belongings from your trunk, truck bed or roof rack to improve mileage.