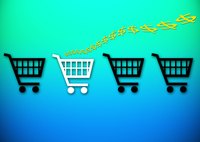 An online business does not require many of the same start-up costs that a brick and mortar business does such as leasing a storefront and warehousing product. According to online business technology resource Computing, if you do not understand the risks with starting an online business you could be exposing yourself and your customers to identity theft and other legal problems.
Internet Hackers
When you start your own online business, one of your concerns needs to be the proper firewall protection against hackers. Computer criminals will not only try to steal your company information, they will also attempt to get into your customer's transaction records to gather personal information.
Another problem presented by hackers is referred to as phishing. This is when a criminal sends emails out pretending to be from your website asking customers to log in to a fake website that will steal their login information. For your customers' protection, post a reminder on your website that warns against logging into an account from an email link.
Terms of Use
According to the Children's Online Privacy act of 1998, it is illegal for a website owner to collect information from children under the age of 13 without the consent of a parent. The online business resource hosted by the U.S. federal government Business.Gov recommends hiring a lawyer experienced in Internet law to help craft a terms of use contract for your website that will indemnify you of any wrongdoing and make sure that you are legally collecting and distributing customer information.
Copycat Websites
Copycats are websites started by others looking to cash in on your success. If you have a website business that becomes popular and generates a lot of traffic, you may start to see websites that look like yours start to appear on the Internet. According to online legal resource FindLaw, you cannot trademark a website. However, you can trademark your company logo and any other distinctive image you use to identify your business such as a company motto or slogan. Websites do fall under what is known as trade dress protection which can protect the look of your website if an competitor's website is causing confusion in the marketplace. FindLaw warns that protection under the trade dress law is difficult to prove in court. CNN Money points out that you can get a patent for any unique processes you create for your website. You cannot patent the idea of an online grocery store but you can apply for a patent to the special kind of shopping cart you invented.