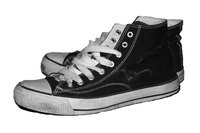 Obese people often have a hard time finding shoes that fit comfortably, unless the shoes are not custom-built for their bodies. The foot of an obese person may be too wide for a typical shoe, even those that are made in wide versions. Wearing ill-fitting, inappropriate should can result in health issues, such as infection and ailments that can lead to amputation. Therefore. it is critical to look at the characteristics of the shoes you plan to buy before using them in daily life. There are several main considerations when fitting shoes for an obese person.
Wide Toe Box
A wide toe box is critical for obese people. Wide feet cramp up in most areas of the shoe, and the toe is no exception. Having enough room for the toes to wiggle is critical in shoe selection, as that ensures the foot has proper blood circulation. This can prevent foot ailments such as bunions.
Stability
Stability is essential in shoe selection as excess weight can create issues with balance. A sturdy heel cup can assist provide this balance. Look for shoes with more material and thickness in the heel region and extra layers of support. The material used for support also plays a role, as the shoe needs to be ridged enough to be durable yet soft enough to allow proper movement as the wearer walks over small rocks or uneven ground. Leather, rather than a thick fabric, is often a better material.
Adjustable Closures
Shoes that have adjustable closures such as Velcro offer a superb fit. Often, these enclosures allow the foot to be comfortable if it sits wider in the shoe. The foot swells naturally with heat and added stress during the day, and Velcro closures can be adjusted to provide additional room for expanding feet.
Anti-abrasion Materials
Abrasion can occur between to the feet when you wear tight, ill-fitting shoes. This friction can cause serious skin problems such as deep-tissue degradation, which can lead to even more serious conditions. Obesity makes people more susceptible to skin abrasions, so shoe material needs to be top priority. Soft leather or synthetics that won't rub the tops of your feet are a good option. Avoid open-toed shoes, as they create pressure points that almost always cause abrasion.