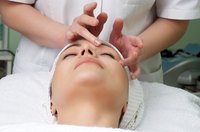 Facial massages have several benefits, such as helping with relaxation and improving the look of the skin. They are popular all over the world. Many spas and doctor's offices offer massage therapy for the face. People who have recently had any type of face or neck operation, fracture, tumor or sunburn should not receive facial massage or treatment until their condition improves.
Relieves Muscle Tension
Many people do not realize how much tension is held in the facial area. Typical facial massages are a combination of applying finger pressure to acupressure points on the face. Stress builds up in the facial area and is shown as tightening of the brow and the jaw. A facial massage can help relieve stress and give you a more relaxed appearance. The relaxation effect of facial massage can spread throughout the body, promoting a sense of well-being all over.
Improves Overall Appearance
A facial massage can help improve overall appearance of the skin. Facial massage stimulates circulation, which in turn nourishes the skin and helps rid the skin of impurities and toxins. Massage also helps cleanse away dead surface cells. This helps make skin brighter and appear more youthful. With improved circulation, the massage can help reduce puffiness and tone skin. The pores become more refined and skin retains moisture better with a facial massage.
Helps Sinus Infections and Allergies
Lymphatic massage is a type of facial massage that can be done to help with conditions like sinus infections, allergies, fatigue and water retention. Lymphatic massages are done by manually stimulating the lymph nodes of the face and jaw line. When these lymph nodes are stimulated, circulation is enhanced. A type of massage that uses a drainage procedure removes congestive material from the facial area. This can help alleviate sinus infections and hay fever.