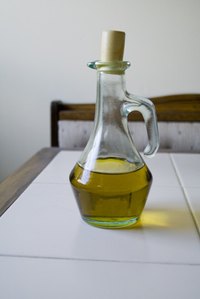 Nutritionists have touted the benefits of adding olive oil to a healthy diet, but using it as a moisturizer for the body also provides natural, moisturizing and anti-aging benefits to the skin. According to natural-skin-care-info.com, olive oil has long been used by Mediterranean women to bring antioxidant protection to the skin. Rich in vitamin E and omega-3, the antioxidants in olive oil combat damaging free radicals and promote smooth, elastic, radiant skin.
Most homemade recipes for lotions and skin products, notes Best-Home-Remedies.com, don't have preservatives. That means they should be kept refrigerated to preserve them longer and will only last about a week. Natural recipes can easily grow bacteria so always wash hands and use an applicator to remove from the container.
Sonoma Lotion
The A Sonoma Garden website suggests a hand lotion recipe that works great as a body lotion. Start with 1/4 cup of emulsifying wax, heated in microwave until melted, and add 1 1/4 cup of hot water, 1/4 cup of olive oil and 24 to 36 drops of your favorite essential oil, and mix. Store in a glass canning jar. Let the lotion cool overnight before using.

Three-Oil Lotion
An alternative recipe from natural-skin-care-info.com combines 2 tbsp. of grated beeswax and 2 tsp. of water melted over low heat. Stir in 1/2 cup of cocoa butter, 1 tbsp. of olive oil, 2 tbsp. of coconut oil and 3 tbsp. of sesame oil. Pour the warm mixture into a glass jar to cool before applying.

Orange Lotion
An orange-scented lotion recipe from Best-Home-Remedies.com mixes 1/2 oz. of melted cocoa butter, with 1 oz. of warmed olive oil and 1 oz. of orange juice. Blend the three ingredients and add two drops of your favorite essential oil. Cool the mixture in a glass jar and apply as needed.