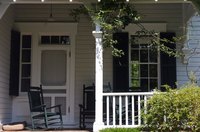 With the average home costing many thousands of dollars, fewer buyers than ever come to the deal with cash to close the purchase. Sellers are often left frustrated when eager buyers don't qualify for a traditional mortgage and the deal falls through. Sellers, however, do have options to move the property and protect their interests: They can finance the home and hold the mortgage for the buyer.
Interest
If the seller decides to carry a mortgage for the buyer, then the interest on the amount is paid to the seller. Over a period of 10 to 15 years, this can equal twice the actual sale price. The seller benefits from cash coming in regularly but does not have the responsibility of a landlord to maintain the property.
The seller also has the option to sell the mortgage at any time to a mortgage broker. This involves selling the mortgage at a discount because the mortgage buyer will have the cash the seller wanted initially. If the mortgage has lasted for some time, however, then the interest paid plus the discounted mortgage sales price could exceed the original asking price, and the seller sees additional profit.
Security
Although no one wants to think about the worst-case scenario, buyers do default on mortgage loans. Losing a job, illness or other circumstances make the buyer unable or even unwilling to continue making payments. The seller, however, could possibly be inconvenienced only in the short term. Foreclosure and repossessing the property results in the seller being right back where the deal began with one exception: the profit accrued during the period while payments were regularly maintained. The costs for processing the foreclosure can be covered with the normal appreciating value of the property. If the appreciation is not significant, then selling for a slightly higher price to cover the repossession costs is justified.
It's not illegal or unethical for a seller to sell, foreclose and resell a property repeatedly. Buyers take on the responsibility to make regular payments and when they fail, the property can be put on the market again.
Qualifying
Banks and other mortgage lenders have strict concerning criteria for home mortgage loans. Established sellers who already have property for security can be more lenient in deciding for whom they will carry a mortgage. The buyer's past credit, income difficulties or other financial factors do not have to be deciding factors for a deal. The seller can sell to anyone with an appropriate down payment who agrees to the repayment terms.