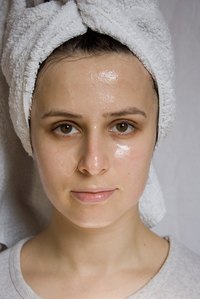 Red, swollen, scaly, prickly, itchy or tight might describe how sensitive skin feels. Cold temperatures, taking in too much sun, and exposure to certain substances could trigger skin sensitivity. In other cases, genetics play a role. For decades, physicians have recommended coal tar to soothe certain sensitive skin conditions.
Clears Acne
A combination of dead skin cells, excessive oil and bacteria cause acne. A person who has acne develops red inflamed lesion. L. Y. O. Leong of the National Skin Center in Singapore has prescribed coal tar soap for patients. Some patients who cannot tolerate traditional acne treatments that contain benzoyl peroxide, retinol, resorcinol or sulphur respond well to a coal tar and glycerin preparation prescribed by Leong. The antiseptic properties of coal tar help clear lesions causes by acne and another acne-like condition, folliculitis. In the case of folliculitis, the skin often becomes inflamed from the oral or topical treatments for acne. Coal tar mixed with calamine lotion clears it.
Causes Photocontact Dermatitis
A red, itchy rash occurs as a result of contact dermatitis. In some cases it can look like a burn an when it becomes severe, and can blister and ooze fluid. An allergy to a certain substance or skin irritation, or an irritation that removes the oil and protective barrier of the skin can cause the condition. Coal tar can cause a specific type of dermatitis: photocontact dermatitis. It occurs when the sun comes in contact with coal tar products on the skin.
If you use coal tar for any reason, protect the skin from the sun with sunscreen or wear protective clothing for 24 to 72 hours after applying the medicine, according to St. John Providence Health System. If you develop contact dermatitis, notify your physician.
Relieves Eczema
Eczema causes patches of itch, bumpy and sometimes thick skin. It can occur anywhere on the body, but often affects the hands, feet, bend of the elbow, back of knees, ankles, wrist, neck, upper chest and the area around the eyes. People who have it often scratch to relieve the itch, which causes further redness and swelling.
The American Academy of Dermatology states that coal tar has a soothing effect on skin inflamed from eczema, and it helps control itching, flaking and redness.
Treate Psoriasis
In psoriasis, a disordered immune system causes the skin to become red, inflamed and covered with patchy white scales. The symptoms usually cover the scalp, elbows, knees, palms of hands, soles of feet, and the lower back. The American Osteopathic College of Dermatology states that "coal tar is one of the oldest and most widely used treatments" for psoriasis. A physician may recommend tar coal in a cream form to help clear the symptoms. Most of the lesions caused by psoriasis will go away after six to 12 weeks of use of the preparation.