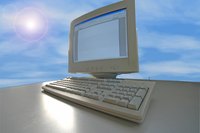 Information technology management is a process companies use that takes advantage of available information technology resources to create competitive business operations. Business owners and managers may struggle to fully implement information technology into their company because of expense, maintenance and upgrade requirements. However, developing information technology management strategies can help company owners and managers find the best ways to use technology to improve their company's operations and standing in the business environment.
Corporate Strategy
Corporate strategies set the overall direction of a company. Business owners and managers typically determine which economic markets the company will operate in, how the company will acquire resources and how to diversify products in the marketplace. Information technology can help a company achieve these goals, for example, through the use of a website to sell goods or services in markets where the company does not have a presence and by electronically ordering materials from suppliers and using business software to create forecasts for production and sales.
Business Strategy
Business strategies focus on one division, department or product line in a business. Owners and managers can use information technology to transfer information between departments and integrate activities to cut eliminate needless activities. Many businesses successfully use information technology to improve their internal business functions. Creating and using information technology-based strategies helps owners and managers set goals and objectives and conduct a performance review process to determine how well the company achieves these objectives.
Functional Strategy
Functional strategies use information technology to focus on the management of specific, daily activities that occur in a business. These strategies help improve accounting, finance, human resources or research and development. Information technology—primarily computers, software applications and intranets—allow companies to automate manual processes and improve individual employee output. While this can sound simple in theory, actually putting information technology to work can be complicated, especially for large organizations. Functional strategies attempt to improve a company from the bottom up, using short-term time frames to complete the implementation process.