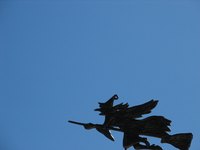 If you have a loved one who thinks the Broadway musical is "Wicked" fun, there is an easy way to be "Popular" with her. For less than $20 you can buy her gifts that will turn her fellow fanatics green with envy while she will be flying so high with delight, she'll be "Defying Gravity."
Wicked Witch
Give her a small figurine of Elphaba to remind her of the brave lead character in the musical. Give her a sign that warns that trespassers will be melted or a no parking sign that insists violators will be "toad."
Wicked Memorabilia
Give him the gift of song with the soundtrack to the Broadway musical "Wicked," or fill out his collection with alternate recordings of the songs, such as the karaoke version. "Wicked: The Life and Times of the Wicked Witch of the West" the original book by Gregory Maguire is available in both hardback and softcover versions for some bedside reading. Let him decorate his room with a poster from the show or use the "Wicked" umbrella so he doesn't melt in the rain.
Fun Gifts
Buy her an extra large bubble wand so she can re-create the opening image of the musical. If she identifies with Elphaba, give her a witch's hat or several bottles of green paint.