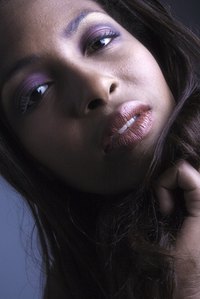 In the evolution of style and beauty, hair color has become a popular topic. Various hair colors can provide warmth, radiance and dramatic effects. Hair color can compliment your skin tone, head shape and facial features. For an African-American, choosing a hair color is a delicate process. Since the dyes used are strong and potentially damaging, you should wait at least three months before changing hair color again.
Dark Skin Tones
For dark-skinned African-Americans, sticking with your natural hair color is not only the best way to keep your hair healthy, but the chances are that your natural color is what probably complements your skin the best. However, if you are ready for a change and want to brave a burgundy or deep-purple color, dark skin often blends well with these hues. Another option would be subtle light-brown highlights, which may appear to put a glow on your face.
Medium Skin Tones
Medium-brown skin tones are often flattered well by light-brown or red hair. While many brown-skinned people naturally have lighter hair, dying it a slight shade or two lighter or choosing a slightly red-toned hair color creates a fresh look. Another idea would be dark blond or medium-red highlights. Highlights enhance your hair's natural tone without using as much chemicals for the new look.
Light Skin Tones
African-American people with light skin often have lighter-colored hair, some even with natural highlights. If this is the case for you, using a shampoo containing a brightening agent will provide a shimmer and shine to your natural color without the damaging effects of hair dye. Whatever your natural hair color, light brown skin tones almost always look best when subtle highlights are added just slightly lighter than your natural hair. For a more dramatic appearance, blond hair color will often create a golden effect on your hair. This glitzy effect will bring out your eyes and other facial features.
Pale or Olive Skin Tones
Many very light-skinned African-Americans have an olive-like complexion. Golden blond hair, as an overall color rather than just highlighted, works well for people with this skin color. The stylish aura this hair color provides will make you appear vibrant and vivacious. Light brown hair also looks great with olive and paler skin, but the lighter the hair color, the more your face will glow and eyes will shine.