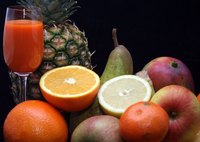 Many parents give multivitamin supplements to their children to assure that they are receiving adequate vitamins and minerals during the important growing and developmental years. Flintstones Vitamins, originally introduced in 1968, have been used extensively. However, there are some health-related dangers for parents to consider when giving these vitamins to their children.
Artificial Colors
Although approved by the Food and Drug Administration, the artificial colors contained in Flintstones Vitamins can be dangerous. Also called dyes, these substances in Flintstones Vitamins are FD&C Red #40 Aluminum Lake, FD&C Yellow #6 Aluminum Lake and FD&C Blue #2 Aluminum Lake. According to MayoClinic.com, Red #40 and Yellow #6 may contribute to hyperactive behavior, and other sources concur with this assessment on the danger of artificial colors.
Artificial Sweeteners
Some of the Flintstones Vitamin formulations contain the artificial sweetener aspartame. Although the manufacturer states at FlintstonesVitamins.com that aspartame is safe and has been approved by the FDA, there has been a great deal of controversy over this issue. Many sources believe that aspartame is dangerous and can lead to serious health problems, including neurological risks. According to Dr. Joseph Mercola in "The Huffington Post," some symptoms of aspartame ingestion can include headaches, mood or behavior changes, seizures and depression.
Sugar
Flintstones Vitamins contain sugar, and it is better for all children, especially those with blood sugar imbalances, to not ingest sugar. Eating excess sugar can contribute not just to serious issues such as diabetes and hypoglycemia, but many other health problems as well. These include immune system suppression, anxiety, depression, irritability, concentration difficulties, cholesterol problems, weight gain, mineral imbalance, food allergies and tooth decay.
Gluten
The manufacturer of Flintstones Vitamins states that they do not add gluten to their products, but they also say at FlintstonesVitamins.com that they "cannot guarantee that they are 100% gluten-free due to the fact that raw materials [they] receive from outside vendors are not certified as 100% gluten free." Many children have food intolerances to gluten, and even a small amount of gluten can trigger an adverse reaction. Children who are gluten intolerant must only ingest foods and supplements that are guaranteed to be gluten free.
Synthetic
Many sources contend that whole food-based vitamin supplements are much healthier than synthetic ones and are better absorbed by the body, as the body can better recognize whole foods. Flintstones Vitamins, however, are synthetic. Whole food supplements are derived directly from foods and are thus more likely to provide necessary nutrients than synthetic ones, according to Whole Food Supplements Guide.