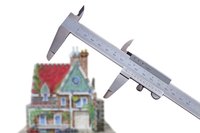 The United States Department of Veterans Affairs offers to back mortgages and refinances for veterans who meet the eligibility requirements. This backing makes the loans more attractive to lenders, but these loans require a one-time funding fee not required of other loans. VA refinances have both advantages and disadvantages, but if you meet the requirements, you should consider using a VA loan to refinance your mortgage.
No PMI
Any VA loan, including VA refinances, is guaranteed by the U.S. Department of Veterans Affairs, meaning the loan will be repaid by the Department of Veteran's Affairs if the borrower defaults. Since the mortgage is backed, VA loans cannot be charged PMI. If you have less than 20 percent equity in your home when you refinance, this can save you money on your refinance because the lender cannot require you to pay for any mortgage insurance.
Options on Refinancing
You can refinance a variety of ways with a VA loan, whether you are refinancing a prior VA loan or a non-VA loan. You can elect to do a cash-out refinance for up to 90 percent of your home equity with a VA loan. For example, if your home is worth $120,000, if you had a current mortgage balance of $60,000, you would be able to refinance for up to $108,000 and receive the extra $48,000 to use however you wish. You can also choose a debt consolidation refinance to roll higher-interest debt into your mortgage, which will almost always charge a lower interest rate.
Funding Fees
The Department of Veteran's Affairs charges an upfront funding fee on the amount of the mortgage refinance that can range from 0.5 percent to 3.3 percent, according to Bankrate. The up front percentage is higher for repeat borrowers and those with little equity in their home. For example, if you refinanced $150,000, a 0.5 percent fee would be $750 while a 3.3 percent fee would cost $4,950. Though this fee can be rolled into the refinance, if you do not pay it upfront, it will accrue additional interest.