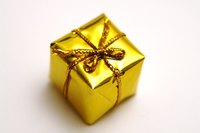 People like to feel appreciated for their work. Whatever kind of group you're supervising, rally team members by showing you value their efforts. You can choose personalized gifts to express individual support and to show employees you're aware of how hard they work. You can also boost morale by giving just a simple group gift. The important thing is the spirit of giving and receiving, which will do wonders to keep motivation up for any team.
Superlatives
To instill a strong sense of team spirit and recognize individual efforts, give "superlative awards." Present a different superlative to each member of the team. These can honor any contribution a team member has made from "Best Effort" to "Best Pep Talks." Be creative and include a small token with the award, such as a gift certificate, mug or plush animal.

Prize-O-Meter
If you're trying to get your team to a certain level of performance, be clear about your expectations, whether they involve meeting a target sales figure, increasing productivity a given percentage or keeping the operating budget below a set amount. As a reminder, post your expectations for everyone to see; include several milestones your team should hit along the way. Provide a chart, such as a bar graph, to display your team's progress. When your team reaches the top of the chart, reward them with a big office prize. Purchase something that will make the office better, or give employees equal bonuses in their paychecks.

Employee of the Week
Choose an employee each week who is a strong team player and personifies what your company is all about. Put the photo and name of that week's employee on the wall and honor her with a prize (a gift certificate or a small gift of any kind). This will motivate other employees to be a future star, and they will note which work behaviors catch your eye.