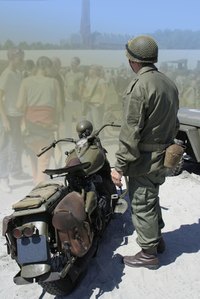 Retiring from the military will cause a lot of changes. You will have to consider your total retirement savings, the scope of your pension plan, your benefit eligibility and whether you will need to find additional employment when you exit the service. Proper planning will help with the transition back to civilian life.
Three Years to Six Months Prior to Retirement
Up to three years before you retire, start to determine what benefits you will be eligible for. Eligibility will depend on when you became a member of the military and the retirement plan you selected. You should also try to pay down any debt you have and take advantage of certain services, like career evaluation, that the government offers for the military. If you plan on going into a civilian career, you should also begin working on your resume and exploring job opportunities. If you are moving upon retirement, you will need to save for relocation expenses, as well.
Six to Five Months Remaining
Plan an appointment with the Retirement Services Office. A Retirement Services Officer can help with additional retirement planning. Developing a Individual Transition Plan is also recommended, along with final medical exams. Job opportunities should be narrowed down and you can begin sending out applications.
Five to Four Months Remaining
Determine your financial plan for your transitional period. If you do not have employment arranged already, start networking with contacts in the private sector or attending job fairs. Your finances will need to be carefully managed if you do not have immediate employment.
Four to Three Months Remaining
Contact the VA for any disability or health benefits you might require as a result of your service. Obtain your verification form of Military Experience and Training, which will help in a job search. You should also file a TDY (temporary duty) request, which will aid you during the transition.
The Last 90 Days
Start to wrap up any additional paperwork you need to complete, such as submitting retirement forms, civilian insurance, benefit claims, legal assistance or retirement investment plans. Make travel arrangements and continue looking for employment by sending out resumes, if necessary.