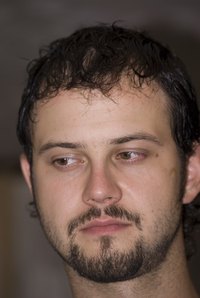 While the clean-shaven face is classic and professional, men's facial hair can be shaved into many different shapes and the styles change with each generation. There are many variations of each basic style, and they are best described by the three areas of the face where hair grows.
Sideburns
Sideburn styles range from the conventional, neatly-trimmed short style that is trimmed straight at the top of the ear line, to medium, which is trimmed in a similar fashion but straight at the center of the ear, to long, which is by the earlobe, or extra long down to the jaw line. There are more unconventional variations of the extra long sideburn such as the pencil thin, extra thick, and the wider at the chin sideburn. Mutton chops are longer and wider than the conventional sideburn style and a friendly mutton chop meets across the upper lip.
Mustaches
A mustache is the hairstyle worn on the upper lip and can be incorporated into a beard or worn with sideburns. Many styles of mustaches include: the basic chevron, which covers the entire upper lip, the Dali, which is named after Salvador Dali, and the English, which is trimmed to the center of the upper lip and has long straight tendrils extending out into the cheek area. Another mustache style is the fu manchu, which has long sides similar to the horseshoe, but the sides are not attached to the face. The imperial, the lampshade, the pencil and the toothbrush are small well-shaped mustaches. The walrus is a classic bushy mustache.
Beards
A beard is hair grown on the jawline, chin, cheeks or neck area and is worn with or without a mustache or sideburns. Popular smaller beard styles include: the anchor, which has a long point from the chin and thin edges on the jawline, the chin strap which has a thin well groomed line on the jaw line, the circle beard, which is usually mistaken for the goatee, the soul patch, which is a small, triangular, neatly groomed tuft of hair under the lower lip. Full beard styles include: the long garibaldi beard has a full rounded-bottom shape, the closely groomed hollywoodian, the old dutch, and the spade, which is worn without a mustache.