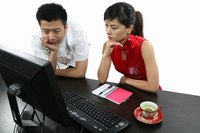 Project managers deploy a range of tools to plan, guide and monitor individual projects, as well as entire organizations. The fundamental purpose of any project is to use raw inputs to create valuable, marketable outputs. A number of project management tools, including Materials Requirements Planning (MRP) and Six Sigma, are aimed at optimizing the cost and value of inputs while maximizing the value and quality of project outputs.
Materials Requirements Planning
Raw materials are a vital input for virtually any project. While manufacturing and construction projects rely to a great extent on materials, even office or service projects rely on consumable materials such as staples, paper, cleaning materials and other necessities.
Materials Requirements Planning systems assist managers in determining the exact amounts of raw materials required for each activity in a project. An MRP system can calculate optimal re-order points, order quantities and automatically place orders when material levels reach the economic re-order points. The system reduces costs associated with shipping and storing materials and can help to reduce waste throughout the project.
Time Management Tools
Project scheduling tools can assist in planning for labor deployment, scheduling hipping and receiving, and coordinating project timelines. Software companies offer a range of packages designed to facilitate scheduling activities. These packages can coordinate schedules for individual workers, workgroups, sequential activities and projects as a whole.
Entrepreneurs can create their own time management tools using spreadsheet software to keep expenses low. Effectively budgeting time for yourself, project staff and the project's activities can help you to stay on track, ensuring that project outputs are delivered on time.
Quality Management
Total Quality Management (TQM), Six Sigma and a range of other project management tools can help to improve the quality of project outputs using project-wide monitoring systems and advanced statistical models. Six Sigma is a rigorous, iterative system that continually uncovers quality issues throughout the project's value chain.
A dedication to quality management can improve the image and value of a project's outputs, giving a company the opportunity to charge a premium price or secure a position of value-leadership in a lower price category.
Reporting Tools
Managers rely on a wide range of internal reports to advise them on the status of a project's inputs and outputs at a given time. Reporting systems can be as simple as daily email updates from front-line managers or as complex as a statistical processing software package that reports on production data such as errors on production lines, units produced per hour and percentage changes in productivity. Whatever form a managerial reporting system takes, it helps managers to make sure that inputs are efficiently turned into reliable outputs on time.