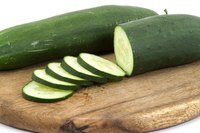 A low-calorie diet has long been considered a key to weight loss. Foods high in fiber and water content offer the most volume with the least amount of calories, a good way to fight hunger when following any diet plan. However, focusing on eating only low-calorie foods can rob a body of vital nutrients, such as fats and proteins, needed for proper function and weight loss.
Under 50 Calories
HealthAssist is an online resource for diet and nutrition featuring an easy-to-use chart for selecting a variety of foods based on low-calorie content per 100 gram serving. An alphabetical list of foods under 50 calories includes: alfalfa sprouts, butterhead lettuce, cabbage, clementines, Chinese waxgourd melon, bell peppers, celery, cucumber, eggplant, endive, green leaf lettuce, lemons, red tomatoes, oranges, pineapple, rhubarb, spinach, white icicle radishes, white mushrooms and yellow tomatoes. A large number of additional foods are listed under 50 calories that are good to eat alone, raw or as recipe ingredients.
50 to 100 Calories
The lowest calorie foods are typically found in the natural state as fruit or vegetables. Processed or manufactured foods will often have a higher calorie content. Multiple manufacturers produce cookies, crackers and other snacks in 100-calorie portion-size packs. Choosing natural foods can make the body feel fuller when on low-calorie diets. Foods with 50 to 100 calories per 100 gram serving include: apples, blueberries, cranberries, eggs, grapes, kale, kumquats, kiwi fruit, leeks, navy bean sprouts, oranges, pears, potatoes, raspberries, red sour cherries, tangerines and many more.
Hunger Satisfaction
Low-calorie and ultra-low calorie diets have shown connections to increased health and longevity. According to ConsumerAffairs.com, the typical American diet consists of 2,000 to 3,000 calories a day, while a low-calorie diet is between 1,400 and 2,000, depending on gender and activity levels. Maintaining health on an ultra low-calorie diet may be difficult without consuming nutrient rich foods. Nutrient dense foods will have higher calorie counts than those listed above, but contain greater amounts of sugars, proteins and essential fatty acids.
Apples are an example of an ultra low-calorie food with a higher sugar content. One small, raw apple with the skin has about 77 calories and 21 grams of carbohydrates, that are mostly sugars. However, this sugar is fructose, a natural sugar the body metabolizes slowly for sustained energy, and when combined with the fiber content, apples maintain a feeling of fullness and hunger satisfaction. HealthDiaries.com notes that women who eat three apples per day lose more weight than women who do not eat fruit while dieting.
The next example on the alphabetical list is chia seeds. Like other nuts and seeds, chia has a higher fat content with Omega-3 oils that are necessary for brain function, a healthy heart and proper metabolism of calories. One ounce of chia seeds has 137 calories, but also contains nearly half of the USDA daily recommendation for fiber and four grams of amino acid loaded protein. The combination of protein, fats and fiber provides for sustained hunger satisfaction.