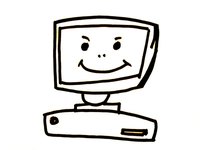 Computer access in the 21st century workplace is as ubiquitous as the telephone was the previous century. Employees from receptionists and shipping clerks to engineers and physicians can boot up, log on and get wired all during working hours. Although intended to improve employee performance and productivity, the computer inevitably becomes an outlet for pursuits outside the work environment. With the advent of the Internet, workers can now spend hours engaged in activities not only distinct from the job but detrimental to the worker and the employer.
Productivity
Computer use other than getting the job done cuts into overall productivity and efficiency. Whether playing a game or logging on to a website for personal reasons, the employee playing on the computer is not doing the job.
Some employers are not adverse to employees going online and spending time doing nothing productive. If there is downtime at work or the phones are not ringing, then the employee is still on the job and available at a moment's notice. Surfing the net or playing a computer game keeps the employee from getting bored. The habit of getting online or game playing, though, may prevent the worker from performing essential tasks for the business's well being.
Personal Issues
Using the computer for communication is one of the more common and advantageous reasons for installing a business system. E-mails and websites through the Internet allow instant contact with customers, vendors and other businesses. When messages and e-mails, however, result in personal attacks, online rumors or unintended communications between workers, the strife and tension can result in one or more employees quitting or having to be fired. Businesses cannot operate effectively when the people involved are angry, resentful or potentially violent over something sent in an e-mail or posted on a website at work.
Computer Problems
Employees going online or installing software from home may cause serious harm to sensitive and secure business systems. Hackers and malicious computer software (viruses and worms) can ruin a database or server in an instant. Companies can see secure information accessed and transmitted to competitors or other destinations and result in losing business all because an employee went to the wrong website and accessed the wrong link.
The result of this ever-present threat is increased computer security and expensive software countermeasures (firewalls) preventing problems getting into the computer system. When employee do not make mistakes and cause system security breaches, logging on and using the business computer can still cost a tremendous amount of money as efforts are made to prevent problems from occurring.