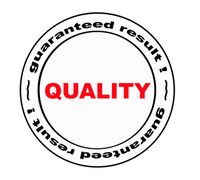 Quality management is important for any organization. Unfortunately, small organizations in particular may feel somewhat threatened by the thought of all of the measurements, numbers and bits of data that they feel quality management will entail. But while it's true that numbers and data are important elements of the quality management system, there are a number of tools that can help businesses use those numbers effectively.
Control Charts
A control chart is a tool that can help businesses understand when a change is due to chance/variation and when a change is meaningful in some way. One month's drop in quality output may not be cause for concern and may simply represent random variation. Control charts plot data points over time and through statistical process control analysis allow companies to identify random versus meaningful variation by showing performance against the mean based on standard deviation. Easy-to-use charts mean that even those without experience in statistical process control can readily learn to apply these principles to control quality output. Control charges generally contain a center line that represents the average of all points plotted, upper and lower control limits that define the range of data points within a range that would suggest random variation and performance plotted across time.
Affinity Diagrams
The affinity diagram was designed specifically for use in quality management by Kawakita Jiro and is widely used in Japan for quality management. Its use has rapidly spread to the United States as well. Affinity diagrams are used in quality management systems to show meaning groups of ideas based on a brainstorming sessions which involve input from a variety of people. Affinity diagrams can be especially helpful in situations where there is uncertainty or the need for structure. After brainstorming a list of ideas, the affinity diagram is used to depict these ideas in groups or affinity sets to visually illustrate connections between the various points.
Pareto Charts
Pareto charts were developed by Vilfredo Pareto, an Italian economist who discovered a common 80/20 distribution of numbers for a range of events. Initially studying the distribution of wealth, he learned that about 20 percent of the people controlled about 80 percent of the wealth. This principle has spread to other areas, including quality, where it is found that about 80 percent of the quality problems experienced generally are the result of about 20 percent of the identified potential causes. This has come to be referred to as the "Pareto Principle" and Pareto charts are used to visually depict the principle as data is arranged to indicate cause and effect. The value for quality management systems lies in identifying those few areas where specific focus can result in the greatest results.