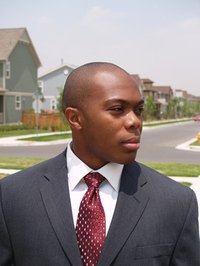 Getting your picture taken can be an arduous task filled with questions that only the camera will answer. Is your smile crooked? Did you close your eyes? And if you're someone who has a dark complexion, will the suit you choose make you stand out from the background or fade into it? There are some tips that apply to dark-complexioned men that will enable you to be at your photogenic best when the camera snaps.
Be Wary of Dark Colors
Men with dark complexions should be careful with dark-colored suits, especially in photographs where darker colors will blend in with your darker complexion, thus fading you into the background of the picture. It's not that dark-colored suits should be avoided completely; it's that a proper contrast is needed to highlight your features. For example, a black, dark brown or dark blue suit may not be ideal for your skin tone, but when paired with a light-colored shirt, it can still look nice. It is ideal, though, that you choose a suit color that is a bit lighter than your skin tone. In this case, charcoal gray is probably your best bet.
Not White, But Bright
The temptation for dark-complexioned men, then, is to go with completely white suits that are paired with a completely white shirt.This, too, is a mistake. The contrast between the background in the photo, your complexion and your suit color will be jarring. If you choose to go with that white suit, try to choose a darker color of shirt for contrast, such as pink. However, if you really want to take advantage of your dark complexion, look for a brightly colored suit or a lighter flavor of a dark-colored suit. In a photograph, this can make all the elements (your complexion, your fashion, the background) blend together in an eye-pleasing combination.
Black Socks Blend
If you have a dark complexion, you want your socks to blend in with your skin tone. When socks stand out in a picture, it distracts from what is really important in the photo--you. Avoid brown socks and light-colored socks for this reason. Instead, stick with black socks.
Experiment Before the Flash
If you're serious about looking good for that photo, experiment with different outfits against a variety of backgrounds before taking the official shot. For example, have someone take a picture of you in front of a white background, then in front of a dark background. Even try having your picture taken against different scenic backgrounds. Try different poses from different angles. This gives you an idea of what works for you in front of the camera, and it makes the collaborative experience with the photographer more profitable.
The Camera Exaggerates
A final rule of thumb that everyone needs to remember is that the camera exaggerates everything about you. So, the slight stubble on your face that looks stylish in person suddenly becomes an unkempt mass of hairiness in a photograph. A little bit of extra chin fat can look like layers of chin fat once the camera snaps. The same is true with suit colors and complexion. The camera will exaggerate. Keep this in mind when selecting what you wear for a photograph.