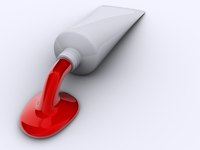 Hairstyles with blond on top and red underneath are a trendy way to make a major statement, subtly change your hair, or something in between. If red is your natural hair color, you can add blond highlights on top for this look. If your hair is brunette or blond, you can have it highlighted, low-lighted, or medium-lighted to create this look.
Long Layers
A hairstyle that maximizes the blond and red color contrast is one that has layers. Long layers allow the hair underneath to show, so the contrast of the red and blond is readily apparent. It may be a subtle contrast, such as caramel-colored highlights on top and strawberry-blond or coppery highlights underneath. The contrast could also be very distinctive by using fire engine red underneath and light blond on top. You can include bangs in this style for an up-to-date look. This style works best with medium to long hair. Medium length hair is from the chin to the shoulders, while long hair is anything below shoulder length.
Bob
A bob that is all one length is an intriguing way to show off the differences in hair color. The hair underneath is not immediately noticeable but becomes apparent with movement. The red hair may peek out from underneath the blonder portions, but is not as obvious as some other hairstyles. This hairstyle may work well for professionals who want a trendy style but also want to look professional at work. This style works well for any length of hair cut one length, from the ear to below the shoulders. A modern take on the bob has longer hair in the front and shorter in the back.
Updos
Updos create drama by highlighting the difference in the blond and red hair color. You can use updos on any length hair from short to long, and there are unlimited styles. Popular updos include messy twists and buns, classy chignons, curly tendrils, and braided styles. Turn short and medium-length hair into a funky updo by curling pieces and pinning them up randomly with bobby pins. Wearing an updo with red hair underneath and blond hair on top is a good way to show off the coloring, whether dramatic or subtle.