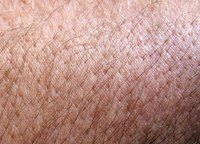 Salicylic acid has been shown to be an effective treatment for warts, acne and the reduction of fine lines and wrinkles. This compound burns away layers of skin and damaged cells, allowing your body to conduct its natural renewal process. The compound should always be used with great care.
Exfoliate the Skin
Salicylic acid acts to exfoliate the skin, which reduces the appearance of fine lines and wrinkles. This is because of how deep salicylic acid penetrates into the skin to remove layers that are contributing to the appearance of wrinkles. It encourages these layers to shed, revealing unblemished skin underneath. Many brands of exfoliating skin cream incorporate the compound as an active ingredient to encourage this process, often combining it with a moisturizer to soothe new layers of skin and prevent redness or swelling.
Controlling Cell Growth
Topical salicylic acid creams and ointments can control skin cell growth by allowing skin to reform the broken collagen chains that cause wrinkles to form in the first place. According to a 2007 article published by the International Journal of Cosmetic Science, the use of salicylic acid increases the production of the ingredients that lead to the skin reforming broken collagen chains, which effectively reduces the appearance of wrinkles in the skin.
Renews the Skin
Removing damaged and dead skin cells is key for the skin to renew itself, cleanse pores and reduce the appearance of fine lines. Salicylic acid solutions can accomplish this task, though the process is slow, taking upwards of three months to produce a full turnover of skin cells. Remember that this compound is still an acid and overuse of it can cause skin irritation, bruising and burns. To prevent damage to newly formed skin cells, new salicylic acid treatments should be applied only to skin that is not showing reddening or swelling as the result of previous treatments.