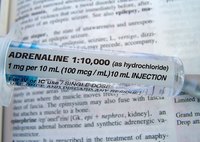 Anaphylaxis is a severe allergic reaction that can be life-threatening. Swelling of the throat, hives and trouble breathing are signs of an anaphylactic reaction. EpiPen auto-injectors contain epinephrine and are designed to use in an emergency to counteract an allergic response--it is not a substitute for medical treatment. Alternative treatments can be utilized to minimize and help prevent allergic symptoms. Always consult your physician prior to using any medications.
Antihistamines
Antihistamines are used to treat allergic reactions. Generally, most antihistamines are readily available and can be purchased over-the-counter. Though they are effective, they typically have strong side effects. First-generation antihistamines such as Benadryl (diphenhydramine) and Chlor-Trimeton (chlorpheniramine) can cause drowsiness, which can make it inconvenient to take the medicine on a regular basis. Second-generation antihistamines such as Allegra (fexofenadine) and Zyrtec (cetirizine) can also cause mild sedation and other side effects, although they come in a longer-lasting formula, which can make them easier to take regularly than first-generation antihistamines.
Leukotriene Modifiers
According to Family Health, "Leukotrienes are chemicals in the body that cause airway constriction, excess mucus production, and inflammation and swelling in the lungs." Leukotriene modifiers are used to help prevent these and other symptoms commonly associated with allergies and asthma. Oral medications such as Singulair (montelukast) are taken in daily doses. Beneficial effects of leukotriene modifiers can be seen within hours; however, the anti-inflammatory effects and symptom prevention can take up to a week or in some cases a month. As with all medications, it is important to follow the directions from your physician to achieve optimum results when using leukotriene modifiers, with as few side effects as possible.
Immunotherapy
Immunotherapy consists of receiving allergy injections as a way of altering the body's immune system response. Injections contain a small amount of a given allergen, in doses that gradually increase over a period of time. The idea is build up a tolerance to the allergen. Although this treatment option is effective over several years, there is no guarantee that an allergic reaction will never occur again. The dosage amount, interval injection times and duration of therapy depend upon the type and severity of the allergen. Because doses of the actual allergen are given, immunotherapy may not be ideal for certain individuals with severe reactions. According to Disabled World, this type of therapy should only be administered in facilities that are equipped with epinephrine, CPR aids and intravenous corticosteroids. Patients must remain under physician surveillance for a minimum of 20 minutes after injections are administered. High-risk patients require extended surveillance time.