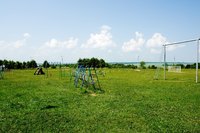 Weight loss can be a difficult task, and many Americans struggle with maintaining healthy weight and diet goals despite their best efforts. Fat camps were designed for individuals that have issues with losing weight and struggle with the weight loss process. Boot camps are usually several weeks long and allow the client to workout on location and still live in their home. This allows the user to transition from the program to their everyday life smoothly. Virginia offers many different bootcamp programs that cater to the needs of the user including women only and unisex programs.
NOVA Womens Boot Camp
The camp is a four week, women's only program that is designed for weight loss and includes fitness instruction and motivation. The morning camp programs start at 6:30 a.m. and 7:15 a.m. and meet Monday, Wednesday and Friday each week. The cost is $199 for 20 hours of instruction. NOVA also offers an evening coed boot camp that meets on Tuesday and Thursday evenings for 60 minutes during a three week program.
NOVA Womens Boot Camp 1800 Old Meadow Road McLean, VA 22102 571-438-3849 novabc.com
Better Bodies Boot Camp
The Better Bodies Boot Camp provides workouts and nutrition advice for adults and is done in a group setting. Participants must enroll for at least four sessions in order to participate in the program. Each session is one hour, and it is suggested that you bring plenty of fluids with you. The program meets each day of the week and offers a free trial session at the boot camp. The fees for the program as of September 2010 for sessions meeting three days a week are $156 for club members and $195 for non-members. The boot camp meeting twice a week is $120 for members and $150 for non-members. The boot camp that meets only Monday is $60 for members and $75 for non-members. Several different day and time slots are available.
Winchester Country Club 1300 Senseny Road Winchester, VA 22601 540-327-6943 afsbootcamps.com
Glatter Fitness Weight Loss Boot Camp
The Glatter Fitness weight loss program is a 21 day program that promises a body transformation for the cost of $52. The program meets at two locations for 45 minutes each session. Gym Quest has classes starting 5:45 am to 6:30 am and 7:15 am to 8:00 am on Tuesday and Thursday. There is also a Saturday class from 8:00 am to 8:45 am. Life Church offers classes on Monday, Wednesday, and Friday from 5:45 am to 6:30 am. The program offers a money back guarantee if you are not satisfied, and focuses on the workout side of weight loss only.
Gym Quest 3004-B Impala Place Richmond, VA 23228
Life Church 8378 Atlee Road Mechanicsville, VA 23116
840-420-2440 glatterfitness.com