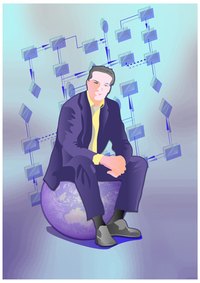 No company or organization is immune to a shakeup as a result of the economic downturn and global competition. For many companies, the focus is quality and productivity; therefore it is very important to accurately measure work performance. Performance evaluations from yesteryear were limited to solely distinguishing good and bad performers. Today, companies use many types of performance evaluation systems as a catapult in awarding promotions, pointing out performance issues, and developing and improving employee performance.
Comparative Standard Evaluation System
Organizations use the comparative standard performance system to rank employees against one another. One of the oldest is the straight ranking method, which compares the overall job performance of an employee to other employees. In other words, employees are ranked one after the other from best to worst based on their "total" job performance. Another popular method is the forced ranking system, where employee performance is compared and then ranked based on percentages. With this method, the top 10 to 20 percent employees are rewarded and the bottom 10 to 20 percent must deal with consequences (including possibly being fired). The third and final comparative technique is the paired comparison method. The paired method is unique in that the work performance between two employees is compared to other employees doing the same type of work or similar tasks.
Absolute Standard Evaluation System
The absolute standard evaluation system assesses employees under different criteria and standards. No comparison is made between employees. The graphic rating scale is the absolute method most commonly used by organizations. Supervisors use this method to evaluate the skills and achievements of the employees as well as their communication, behavior and reliability. A second method is the easy narrative, which involves documenting, in paragraph form, the accomplishments, weaknesses and development and training needs of the employee. A third method is the weighted checklist, in which records are maintained to showcase good and bad performance events. The supervisor weighs the high and low points on the list and comes up with an overall rating. The fourth and final absolute standard is the critical method, which only focuses on the top and bottom levels of the employee's work performance. Average performance is not addressed by the supervisor with this method.
Other Modern Evaluation Systems
While many organizations continue to use traditional performance evaluation systems, others are employing more modern techniques. The behaviorally anchored rating scales (BARS) method evaluates an employee's performance based solely on behavior ranging from five to ten vertical scales. The management by objectives (MBO) method focuses on setting goals for employees and evaluating and rewarding them when reaching the established goals. The 360 degree feedback method is an evaluation based on the feedback of anonymous employees in the organization and outside customers.