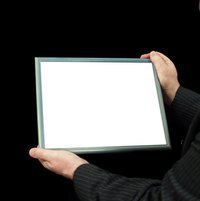 Branding gives consumers a vivid picture of what a company and its products represent. Through successful branding strategies, audiences may formulate certain expectations of a company (they make rich-looking clothes, their food is authentic, etc.) which may ultimately turn them into buying customers. Companies should determine what they want consumers to see when they look at their advertising, and then appeal them with appropriate branding strategies. Among the most successful strategies are consistency, established credibility, and competitive pricing.
Consistency
In branding themselves and their product, a company should always maintain a consistent look and message. This gives customers something to look for (they might remember a logo from a commercial or a print advertisement), and is a literal representation of the product. Companies should work with a graphic designer to develop a complete branding strategy, with logos, signage, web site design, and packaging all taken into consideration. All of these visual cues should remind the customer of the brand and the kind of product that brand sells (luxurious, efficient, environmentally friendly, low-cost, etc.). Similarly, companies should work with marketing strategists to develop consistent messages and logos to make their brand memorable.
Established Credibility
Nothing beats a company that has a dedicated consumer base and a solid reputation for delivering a great product. Companies often struggle to establish credibility for delivering a product that is reliable, and so it is important to emphasize credibility in any branding or marketing effort. Marketing professionals can help emerging companies establish credibility among consumers by sharing important information about the product (where it comes from, how it is made, what the company strives for, etc.) and promoting the product through press opportunities (getting the product onto television shows, getting trusted public figures to vouch for the product, etc.). When consumers hear someone they are familiar with say that he or she relies on a certain product ("I don't know what I'd do without X detergent!"), they are often intrigued to try that product themselves.
Competitive Pricing
Pushing the idea of competitive pricing as a branding strategy depends in large part on the kind of product a company is selling. For example, if the company is a high-end fashion house, competitive pricing is not the strategy it should pursue to appeal to its customer base. However, many products, such as children's clothing, food items, and cleaning aids can appeal to the average penny-pinching adult who is looking for the best bargain he or she can find. With these items (which most consumers must buy on a regular basis), there is a high turn-over, meaning that consumers must continuously replace these items and often want to find the best deals they can to keep their households running smoothly.