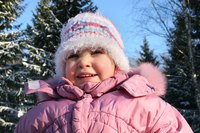 You can increase the chances of asset protection and tax write-offs for your daycare if it is formed under the entity of an LLC. If you choose to operate your daycare as a sole proprietorship, you are placing your business and your personal assets at risk of being confiscated in the event of a litigation. Also, you are limited to the amount of tax write-offs you can make for business-related expenses. Becoming an LLC can be established in less than 30 days with the help of a certified public accountant or lawyer. You can also form an LLC yourself by visiting your state's secretary of state website.
Profit Allocation
Owners of a LLC benefit from being able to distribute profits however they see fit. Unlike a C corporation, the profits are not allocated based on the individual who owns the largest percentage in the company. An LLC allows you to legally distribute profits at the schedule that works best for you and the people you choose.
Asset Protection
If a parent of one of the children in your daycare sues you and you lose the case, any personal assets in your name can be confiscated as payment for damages. Forming an LLC can protect your personal assets from being seized. Assets owned by the LLC, as well as potential profits that it makes, can be taken if the LLC loses the case.
Flexibility
Unlike other business entities, LLCs have more flexibility in how they choose to operate. For example, annual meetings are not necessary in most states for LLCs, and rules can be made as quickly as the members of the LLC sees fit because a vote is not required.
Location
An LLC can be established in your daycare's name even if it is not located in the state you are running the daycare. Business owners choose to establish LLCs in different states when the business owner can pay less taxes in the other state. For example, Delaware does not require an income tax to be paid on an LLC that is not operating in the state. Even if you are not a resident of Delaware, you can form an LLC there.