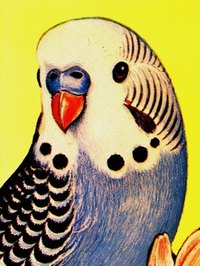 Parrots come in such a diversity of sizes and prices that it can be difficult to know which is both the best house parrot and the most affordable. Many parrots are excellent pets, good birds for beginning bird owners, and affordable. Keep in mind that the initial price is only a small factor to consider when buying a parrot. Be certain you can care for an animal for its entire life before you buy it.
Mid-size: Cockatiel
Cockatiels are popular low-cost parrots. They have several color patterns and are easy to train. They average 12 to 14 inches from beak to the tip of the tail and live up to 25 years. Cockatiels have considerable vocal ability but prefer mimicking sounds and whistles to talking. Males tend to talk better than females do, and are more colorful. They are easy to find at most pet stores that handle small birds, as well as from private sales. In 2010 they tend to sell for between $40 and $150.

Small: Budgerigar
Budgerigars or "budgies" are usually known as parakeets in the United States, but they are just one of members of the parrot family that are called parakeets. Budgies are the smallest of the parrots and are easy to tame and handle. They average 7.5 inches from beak to tail tip and live up to 15 years. Most pet stores that sell live animals have budgies. It is harder to find individual breeders of parakeets in private homes because they are not as profitable to sell as large-breed parrots are. They have the same number of offspring in each clutch--between one and four--but only bring up to $40 each, versus the hundreds or thousands of dollars bigger birds deliver. The average budgerigar in a pet store will cost between $25 and $50. Private sales can be as little as $10 to as much as $75. Fancier, show-quality budgies may cost up to several hundred dollars.

Smaller: Parrotlets
The very name parrotlet symbolizes the minute size of these pint-sized pranksters: Little parrot. Although small, they are packed with personality and can do many tricks. They are not the best talkers, but owners do report a wide variety in sounds and even occasional words. Despite their small size, Parrotlets are the higher-priced parrots in the low-cost range. They can live up to 20 years, and their price averages between $100 and $300. Their colors and patterns vary widely, and they come in a large variety of colors and patterns and remain less than six inches throughout their lives.