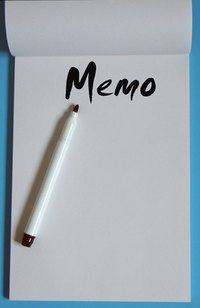 Proper business communication is not just the exchange of information, but also a process in which both the sender and receiver agree on a understanding of the information being exchanged. There are two main forms of business communication: written, such as memos, emails, reports and agendas, and oral, such as face-to-face meetings, speeches, teleconferencing and interviews. Certain standards apply to both forms.
Think Ahead
Develop a brief outline before sending an email or memo. This will help you structure your message effectively. An outline does not have to be formal. Jotting down your thoughts on a handy message pad is often enough to help you formulate a clear message.
Simplicity Equals Clarity
Your aim is to not confuse or bewilder your reader or listener, but to clearly inform them of the purpose of your communication right from the start. Don't use fancy vocabulary just to impress the person with whom you're communicating; use the words that best convey your message. If your readers have questions, be sure to include your email addresses or telephone numbers, so they can follow up with you if they need to.
Keep It Brief
Bullet points make presentations brief and to the point. Bullet points make it easier for readers to visually absorb your message.
Follow the One-Point Memo Rule
Write a memo with one important and clearly-stated point in order to prevent your message from being bogged down with irrelevant information. Creating an outline first will help streamline the writing process.
Editing Prevents Misinterpretation
Before you send off your work, give it a second look to see if any part could be misconstrued or misinterpreted. A second set of eyes can help. Editing for content and quality is essential to gaining the reader's trust and confidence in you.
Spell Check Counts
Spell check your email or memo before you send it out. This will prevent you from sending misspelled words to your fellow co-workers or your boss.
Be Patient
Wait a few minutes before responding if, for instance, you are responding to an unfavorable email from a customer. A good rule of thumb is to wait five to 10 minutes. This will help to prevent you from communicating any personal feelings of hostility in a response. This strategy is also helpful if you're responding to a negative message from your boss.
Confirm Receipt
Follow up on your emails and memos with a simple poll, telephone call or email in order to see who opened your message and to check that your message was delivered to the right people.