Baseball parties in America often take place in stadium parking lots on the tailgates of pickup trucks with food grilled to perfection under the summer sun. Baseball games make a perfect excuse for a party with all kinds of classic food options. Potato salad, hot dogs on the BBQ, baked beans, root beer floats, caramel corn and a bowl of peanuts will make your baseball party complete. Make puffed rice baseballs or a cake with baseball decorations as additional party treats.
(Ernest Prim/Hemera/Getty Images)
The "Food Network's" famous chef Emeril recommends a twist on the traditional hotdog idea with his recipe for corndogs made with Andouille sausage links and topped with creole mustard. Make corndog batter with cornmeal, flour, cayenne, buttermilk, eggs, cornstarch, baking powder and salt. Skewer the sausage links, dip them in the batter and fry them in hot oil at 360 degrees F until the batter turns golden-brown on all sides. The secret super-ingredient in the batter that makes this corndog recipe special is Emeril's "Essence Creole Seasoning," which contains paprika, salt, garlic and onion powder, pepper, cayenne, oregano and thyme. Add some creole mustard to please all your spice-loving friends.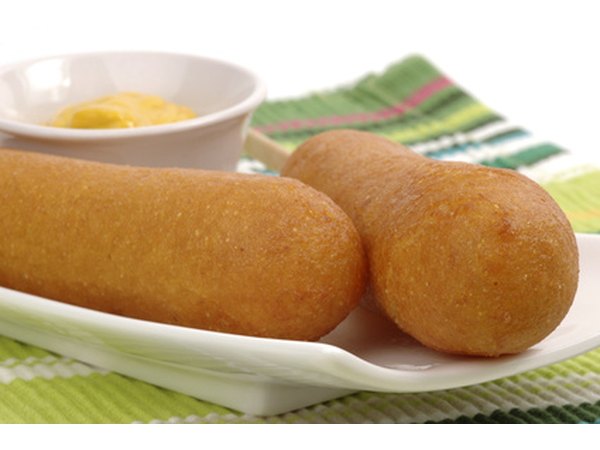 Golden corndogs on a plate with mustard. image by William Berry from <a href='http://www.fotolia.com'>Fotolia.com</a>
Prepare baseballs made out of a puffed rice cereal such as Rice Krispies for baseball-loving kids and sweets-loving adults at your next tailgate baseball party. Use your favorite recipe for puffed-rice treats including butter and melted marshmallows. Once you have the mixture good and sticky, don't press it into a pan to create bars. Instead, make the mix into different sized baseballs. Apply chocolate frosting with a small applicator tip to draw the threads on the treats in the typical pattern seen on baseballs. Place the baseballs next to a plate of breadsticks made in the shape of bats to add even more to the baseball ambience.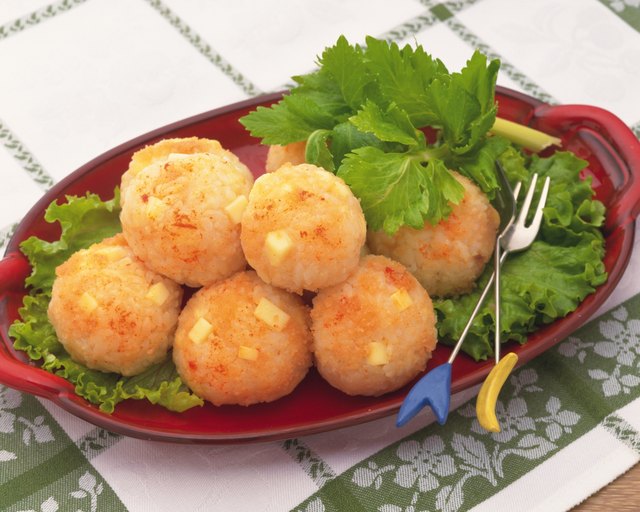 DAJ/amana images/Getty Images
Add even more spice to your baseball party with chili sauce baked beans. All you need is a pound of bacon, a couple cans of your favorite baked beans, a bottle of your favorite chili sauce, a large onion and enough brown sugar or maple syrup to sweeten the beans to your liking. Fry the bacon, drain it and crumble it into small pieces. Combine all the ingredients into a dish to cook in the oven for about an hour. You can also use a slow cooker and heat the mixture slowly for six to eight hours to give the flavors a chance to blend a little more.
tycoon751/iStock/Getty Images
Promoted By Zergnet