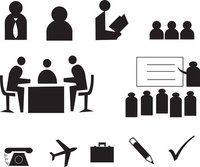 Human resource policies and procedures are industry-specific and will vary between different business entities. Such policies help establish processes and practices that protect and enhance an organization's objectives. These human resource practices manage a company's risks, address employee needs and assist in adhering to state and federal labor laws. When policies and procedures parallel the organization's mission, vision, values, strategic goals and objectives, they become the tools used to help the company achieve those things.
Staffing
HR policies and procedures dictate a protocol that is uniform and consistent in staffing the organization with personnel that fits the business. Staffing procedures and policies take into account where, when, why and how positions need to be filled or eliminated. Additionally, these practices include employee orientations, succession planning, and retention and exit programs. The size and type of an organization can dictate the extent to which these policies and procedures are executed.
Job Performance
Businesses have procedures and policies in place to influence the efficiency and outcome of the work being performed. Policies and procedures may include a means for employees to learn job-related tasks. However, they also inform employees what behavior is acceptable and what may not necessarily be tolerated. A company's policies and procedures should be a reflection of its employee manual, job performance reviews, and disciplinary actions. Attendance, dress codes, cell phone and Internet usage are common issues found addressed in policies and procedures relating to job performance.
Compensation and Benefits
An organization offering compensation and benefits needs policies and procedures to develop, implement and administer such in accordance to state and federal law. Policies and procedures may outline the course of action required for paid breaks, paid vacations, leaves of absence, job-related injuries and illnesses. HR policies and procedures dictate the administration of health insurance and other company benefits, as well as when and how employees are paid.
Workplace Relationships
Policies and procedures spell out the process for which workers communicate with each other. Organizational charts may indicate who is whose boss, but the policies and procedures dictate how the exchange of ideas should transpire. Employee and labor relations can be enhanced with policies and procedures that implement good working relationships. Respect for cultural differences are often addressed in the policies and procedures to prevent discrimination and harassment.
Safety
Establishing policies and procedures to provide a healthy, safe and secure working environment, in compliance with labor laws, is critical to an organization's interests. Policies and procedures include programs and training to respond to specific safety issues, in addition to providing or requiring the proper safety equipment, tools or supplies to assure safe working conditions.