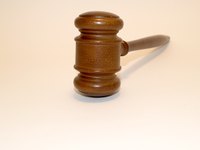 An organization's dissolution bylaws are created to provide for the disposition of any assets remaining at the time the entity dissolves, as well as for the payment of any outstanding debts. Typically, provision for dissolution of the organization is placed within the bylaws written at the time the entity is formed.
Dissolution Requirements
Bylaws of many organizations state that either a 2/3 or unanimous vote of all voting members is required to dissolve the organization.

Distribution of Assets
The dissolution provisions for non-profit corporations that are tax-exempt are required to state that any remaining assets are to be distributed to other 501(c)(3) non-profit entities. Other organizations may choose to distribute the assets equally among members.

Reinstatement
An organization that has been dissolved may be reinstated. Depending on the organization, provision may have been made in its bylaws for reinstatement; in the case of a corporation, a form may need to be filed with the corporations division in the state where the corporation was formed.